CLICK HERE to download the full Newsletter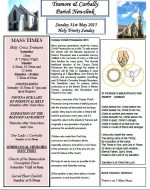 Corpus Christi Procession 2015
Many previous generations recall the Corpus Christi Processions as a child. To walk around the streets with the Blessed Sacrament in Solemn Procession was a wonderful memory instilled in the memories of many a child and their families for many years. This favorite traditional devotion of the Corpus Christi Procession this year through the streets of Tramore will be held on Saturday 6 June beginning at 7.30pm Mass, then leaving the Church, and processing (weather permitting) past St Patrick's Cemetery through Moonlaun, into Sweetbriar Lawn for prayers, before continuing on to the Marian Shrine in Marian Terrace, concluding with Benediction and Prayers to Our Lady.
For many, memories of the Corpus Christi Procession bring memories of walking around with the windows all decorated and buntings outside. Many towns and cities in Ireland still hold the procession every year, and it is hoped the return to the streets of Tramore will invigorate a new generation of people to preserve this wonderful procession.
Children who made their First Holy communion and Confirmation will be especially welcome, and will be a main focus of the procession, as it is they who are very much the future of the church.
We hope to see as many as possible for the procession next Saturday evening.
(If the weather is bad, there will be a shorter procession in and around the church.)
CLICK HERE to download the full Newsletter